PUPDATE:
AJ (Classy) is now Rocky's Best Friend!
An Update from AJ's new family –
"Tommie and Staff,
What a great year it has been!  It's been such a blessing to have AJ as part of our family.  We can't imagine one minute without her.  She has touched our hearts tremendously and made a great friend and companion with Rocky.  You can't separate the two of them.  The feeling you get when you adopted a pet is indescribable feeling.  As this was our first time adopting, we are so happy we went this route.  The first year with AJ went by so fast!  The minute you left after dropping AJ off, I sat on the floor and she came running up to me and flopped right on my lap!  At that moment I knew she was a perfect match for our family.  AJ is doing great on her walks and she loves to make "Doggie Snow Angels" in the backyard during the winter.  She loves to play catch and to play tug-of-war with Rocky.  It took some time, but she's starting to warm up to visitors. She sure knows who her grandma and auntie are.  When they come over she starts jumping like a bunny rabbit and gets so excited.  When we took her to the vet for her yearly visit she was extrememly good.  There were people and pets in the lobby and it didn't phase her one bit, she was one happy puppy!  The visit went good and she was very good with the doctor.  She loves riding in cars! She gets so excited!  When we take her for walks, we open the door and she walks straight to the car…..lol!
Birthdays are special in our family!  We made sure she had a very special one.  She had lots of treats, bones and birthday presents!  We had a great first summer together too!  We got her a small pool to play in!  I think I spent more time in the pool then she did, but maybe this summer she will get all the way in…lol.  She also loves taking baths!  When I pull out the hose and turn the water on she runs right up to the water.  She loves to be scrubbed down and massaged.  We have a game we play with the hose: I'll squirt the water up in the air and she jumps up to try to eat the water.  It's the cutest thing ever!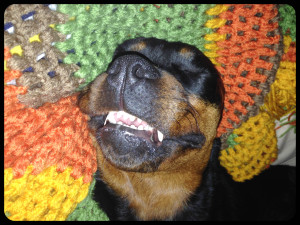 Over the summer AJ and I participated in the Humane Society Charity walk!  AJ loved the walk and had a great time with the other dogs.  We also raised money for a great cause!  We also entered AJ in the "Make Your Pet A Star" photo contest, which she was 2nd runner up in her category.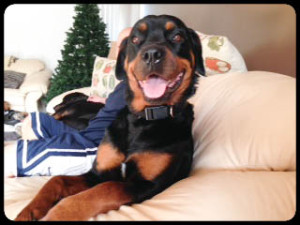 I do have to brag, she's one smart puppy!  When its bedtime (10:30 pm), she runs to the door to be let out so she can do her thing then when she comes back in, she bolts up stairs to the bedroom and jumps on our bed!  It does not matter what day of the week it is, once it hits 10:30 pm she knows!  She loves to cuddle!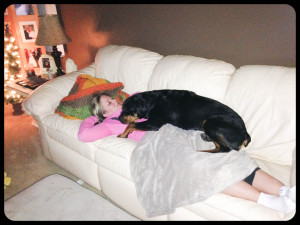 If she's not cuddling with Rocky, she's either cuddling with momma or daddy.  If we move during the middle of the night to get more room she moves with you so she can be that close.
We are so grateful AJ is part of our family!  We had such a wonderful 1st year with her and we can't wait for more years to come and to watch her grow!  Thank you for everything you have done for her and thank you for what you guys do there for all the dogs.  You guys are amazing people at an amazing place.  God Bless You!  Hope you enjoy the pictures and collage.  I had a hard time just sending one picture…lol!"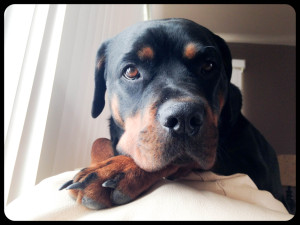 –  Sincerely, Jennifer, Jim, Rocky and AJ
Thank you so much Jennifer for sending in this warm fuzzy Update!  Sounds like AJ is the perfect addition to your Family!  Rocky and AJ are both very photogenic and well photographed dogs – Please keep the photos coming in 2015!  Blessings!