PUPDATE: Wesley's been home since 2010
Wesley came to the Sanctuary in June of 2010 and was adopted in December of 2010!
"Wes fit right in quick.  He didn't have any problems.  I believe it was 3 Christmas's ago he came to be with us??  He does look like he is getting a little older – and acts like it.  He seems calmer when home with the family and tends to nap more than he used to.  He still has his times though – chasing Dylan (4 years old) around the house and over the couches, or out rolling in the grass when weather is good.  I'm not sure he has a favorite, though.  He is content with anybody, even strangers.  He will bark when someone arrives, but the minute he smells them with his tail wagging, he turns his back and sits, waiting to be petted.  Wes is very patient.  Dylan used to "hug" him and hang on him and he would just look at us as if he was asking for help.  He sleeps with Ashleigh (12 years old) or Dylan, but mostly Dylan because Dylan won't go to sleep without him there.  When grandpa or uncle Dennis comes over, then they are his favorite because he knows they will give him ALL of their attention!  Ashleigh has taught him some new tricks. He knew sit and down when he came here, but now does speak, crawl and will even give the treat back on command without issues.  In the end though, he is rewarded!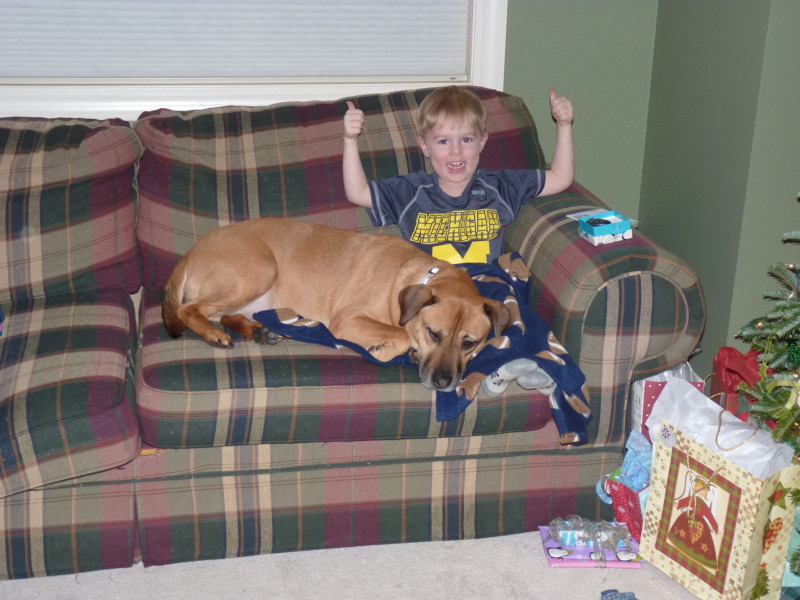 Wesley does get to go for rides, but not as often as he would like.  It's usually when we go pick the kids up from school or when I go see the guys at work (the fire station).  He likes to run around there too and shed on everybody's dark blue pants.
I find myself looking at your web site often.  Wondering how Wes would do with a friend. But I'm pretty sure Denise is not ready for 2 dogs in the house.  I see you have some senior dogs available and have thought maybe adopting one for Denise's dad.  He loves dogs and I think a mellow senior would fit in well with him.
I wish I could have gotten you some better pictures, but when the camera phone comes out, he tends to look away."
Ken
Thanks for the update Ken!  So happy to hear Wes is doing so well in his forever home!