Selfie Superstars!
We have a winner! – Actually our dogs and Volunteers are all winners!
For the month of January, Volunteers competed in a contest for the best Selfie with one of our Sanctuary dogs.  We had many wonderful submissions – despite the challenges of weather!  Winners were chosen on February 1st.  There were 63 submissions, so it was very difficult to choose between them all!  We just had to share the Top 5 –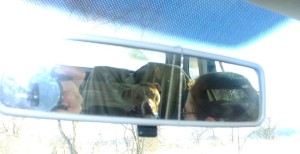 5th Place:
Jan Reed Smith (7 years) and Amber Pontius (1 year) with Guapa!  Guapa has been working on her skills while riding in the car with Jan and Amber.  Thanks ladies for taking Guapa for a ride!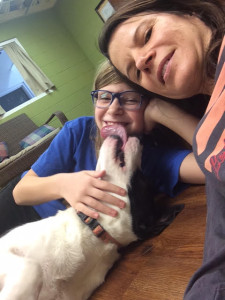 4th Place:
Sue and Reese Brown (6 months) with Dot! Dot loves to give kisses, especially right on the mouth! So happy when we can give our Sanctuary dogs the time they need to unwind and get comfortable.  Thanks Sue & Reese!  Anyone else up for some Dot Kisses?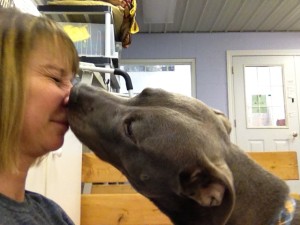 3rd Place:
Elisa Wildfong (2 years) with Bonita!  Bonita loves her weekly time with Elisa!  Dogs like Bonita have so much love to share and we appreciate Volunteers like Elisa that take the time to receive it!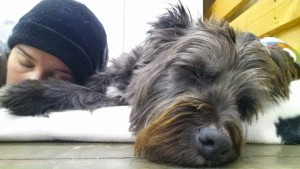 2nd Place:
Nicole Schramm (5 years) with Pookie! Getting love and then taking a nap! What could be better?!  Thanks Nicole for sharing a snooze with Pookie!
And the Winner is….
1st Place:
Kelsey Kletke (3 months) with Cuddles!  A smiling Cuddles enjoys her time with Kelsey doing laundry.  Even laundry duty with a Volunteer at the Sanctuary can be an awesome adventure for a Sanctuary dog!  Thanks Kelsey for sharing some domestic bliss with Cuddles!
A huge thanks to everyone that participated!  It feels so good to show the love and to receive it!  
Here's a few honorable mentions to bless your day as well: