Find your new family member at Mackenzie's Fall Festival!
woodtv.com/2015/09/24/find-your-new-family-member-at-mackenzies-fall-festival/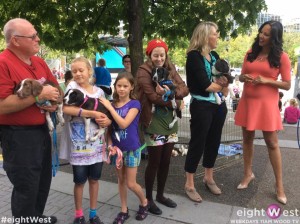 LAKE ODESSA, Mich. (WOOD) A special event is planned to introduce people to a potential new four-legged family member, and to give you an inside look at the great work done at Mackenzie's Animal Sanctuary.
The Fall Festival at Mackenzie's is on Saturday, October 3 from 11 a.m. to 3 p.m. there will be hayrides, pumpkin painting, tours of the facility, and the chance to meet the new veterinarians.
Mackenzie's Animal Sanctuary is a no-kill sanctuary for dogs that come from humane societies or animals shelters. They have about 90 dogs available for adoption, and Mackenzie's cares for them as long as it takes to find them forever homes. The staff and volunteers get to know each dog, their personalities, and what they like and dislike, to make sure they're matched to the right home.
Check out Mackenzie's at the Fall Festival. They are located at 8935 Thompson Road (M-50) in Lake Odessa. To register, call (616) 693-2490 extension 3 or visit their website.