Fundraiser For Quinn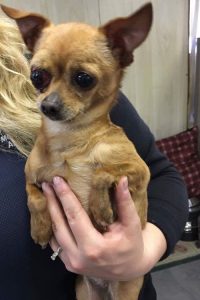 Quinn is an adorable, sweet, affectionate 2 year old female chihuahua who was recently found as a stray and taken to another local shelter. At that time, Quinn's right eye was very swollen, red, and uncomfortable. Based on the appearance of her eye, glaucoma was suspected as the cause. Glaucoma is a condition in which the pressure inside of the eye exceeds normal levels. This results in the eye swelling which causes pain and eventually results in loss of vision if not treated.
Within a few days, Quinn's swollen eye had ruptured. Upon arriving at Mackenzie's Animal Sanctuary, Quinn's ruptured eye was no longer viable and she was unable to see out of that eye. Therefore, we removed her non-functional eye to provide her with comfort. Quinn is not up for adoption just yet, however, she is being fostered by a Mackenzie's employee while she recovers.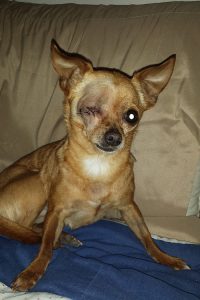 Glaucoma can be due to genetic causes or trauma. Due to Quinn's history as a stray, we are unsure what caused her glaucoma. It is very important to monitor the pressure in Quinn's remaining eye to ensure she does not develop glaucoma in her other eye. We need to keep her only remaining eye as healthy as possible to protect Quinn's lifelong vision.
Unfortunately, Mackenzie's does not have the equipment necessary to monitor eye pressures. We will be utilizing the help of other local veterinary offices to keep track of her eye pressure for now, but we would love to be able to provide this service at Mackenzie's in the future! The equipment needed to monitor eye pressure costs about $3,000. We would love your help raising funds to purchase this equipment to help sweet Quinn plus other Mackenzie's dogs in years to come!