Mackenzie's is part of the 4gr8food Fundraising Program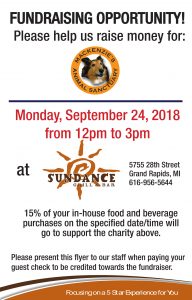 What is this you ask? It's an exciting fundraising opportunity that Mackenzie's Animal Sanctuary is now part of. It's an easy way for our supporters to help raise funds for dogs in need just by going out to eat. There are many participating restaurants, but we can only pick one at a time.
Our first Fundraiser will be held at 
Sundance Grill, (Location: 5755 28th St. Grand Rapids)
Sept 24th from 12 pm– 3 pm
How does it work? 15% of in-house food and beverage purchases on our specified date/time & location will be donated back to Mackenzie's.
What do you have to do? Print out this flyer, take it with you on our specified date/time & location to enjoy an amazing meal and give to your server at time of payment.  It's That Easy!
Participating Restaurants below: