Augie
Status: Not Adoptable
Date of Birth: May 28, 2018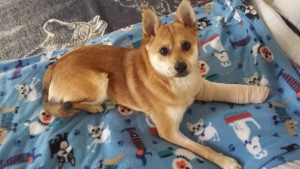 Meet Augie, he had a big week the end of this January. He was transferred to Mackenzie's and needed surgery right away to repair his fractured leg! It is unknown how long his leg was broken or what had happened to him. His previous owners said they had two options, let him go during the snow storm or take him to animal control – we are so grateful they took him to their local animal control and that they contacted us for help. He had to have a bone plate installed into his leg to realign the broken bones along with a cast. Thank you, Great Lakes Surgical Center, for getting him in right away and helping him feel much better. It's a challenge to care for a dog with a cast during this type of weather, so he is currently being fostered by a staff member while on the mend. Please help support Augie and others like him that need emergency care & surgeries at Mackenzie's. Augie will be up for adoption once he's feeling better.
Total Surgery Cost $2,500
Please sponsor Augie today!
| | |
| --- | --- |
| Use this button if you prefer to make a monthly payment of $25 | Use this button if you prefer to make a one-time payment of $300 |