Ace
Status: Adoptable | Adoption Survey
Date of Birth: November 11, 2010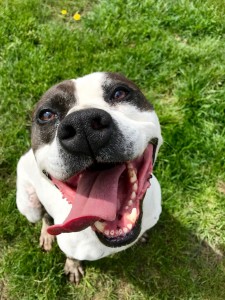 I'm Ace! Nice to meet you! I'll confess – for a long time, new people and new things made me nervous. There's a big world out there that I didn't know much about, and my nerves made it hard for me to make a good first impression! Fortunately for me, staff and volunteers at Mackenzie's took me under their wing and have helped me see that there's a lot of cool stuff out there in the world.
Now that I'm a bit older and wiser, I think I'm ready to find myself a forever home. Now that I've built up my confidence, I'd love to spend some time getting out and exploring. In the time I've been at MAS, the staff and volunteers have helped me to perfect my walking skills! Not to brag, but I think I have some of the best walking skills here. It would make me a great partner for hikes and walks in the park. I also love car rides, so just say my name and I'll be all ready to go!
Not only do I love taking walks, but I also LOVE playing fetch! If you let me, I could play all day long – but I could be convinced to break for a snooze or hang out while we relax. I'd prefer to be the only pet in the home, but would be happy find myself surrounded by a human family. Ask about me or fill out an application soon!
Meet-Your-Match Canine-ality color is: Orange Busy Bee!!!
For safety's sake, we are looking for homes with physical fenced in areas.
Please fill out our online adoption survey at www.mackenzies.info
Please sponsor Ace today!
| | |
| --- | --- |
| Use this button if you prefer to make a monthly payment of $25 | Use this button if you prefer to make a one-time payment of $300 |