Azland
Status: Not Adoptable
Date of Birth: January 16, 2013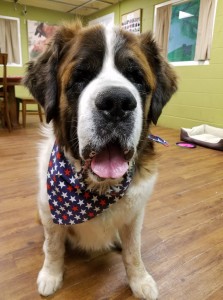 Azland is a 5 year old Saint Bernard who arrived at Mackenzie's Animal Sanctuary in January 2018in rough shape.  He was surrendered to another local shelter severely underweight with many medical issues.  Due to his large size, he was unable to fit into the cages at the other shelter, so Mackenzie's stepped in to help with this giant guy.
Not only was Azland emaciated upon arrival at Mackenzie's, but he had two fractured teeth, fleas, hip dysplasia with secondary hip arthritis, an ear infection, and severe eyelid malformations causing decreased vision. His left eyelid was so irregular that it scrolled inward on itself numerous times resulting in chronic irritation to the surface of the eye. Lucky for Azland, Mackenzie's addressed all of his medical problems to help him be more comfortable!
Unfortunately, a few months later Azland starting acting off.  His caretakers knew something wasn't right as he refused to eat a few meals, was sleeping more than normal, and was favoring his left rear limb.  After visiting the veterinary team at Mackenzie's, it was determined that Azland had bone cancer. In order to provide Azland with the most comfortable life, his cancerous bone was removed by amputating his left rear limb.
Azland pulled at everyone's heartstrings the first few days after his amputation as he needed time to adjust to life on three legs.  His very large size, concurrent hip arthritis, and minimal limping before surgery contributed to a steep learning curve for Azland post-op.  Everyone at Mackenzie's worked together to help Azland walk for potty breaks and to build his confidence on three limbs.  After many days of defeat, Azland brought joy to his caretakers as he began to walk on his own with encouragement!
In order to slow down the progression of his cancer after amputation, Azland recently started chemotherapy.  So far he is tolerating the treatments well with no adverse effects.  But, most importantly, his energy, spunk, and quirky personality have returned!  Would you like to sponsor Azland to help Mackenzie's continue his fight against cancer?
Please sponsor Azland today!
| | |
| --- | --- |
| Use this button if you prefer to make a monthly payment of $25 | Use this button if you prefer to make a one-time payment of $300 |