Bradley
ADOPTED!
Status: ADOPTED!
Date of Birth: March 7, 2008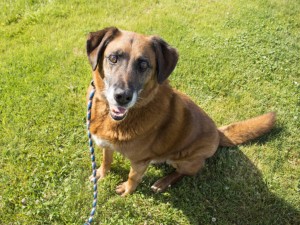 I am one joyful dude, living life to the fullest! I may be blind, but I'm as happy and capable as any dog! I've been told that I have a sixth-sense because I know whether someone wants to play or needs a hug. I give great hugs.
After practicing my basic obedience and playing, I like to settle down and just chill next to someone. If they're giving out pets, even better!
Because I can't see, other dogs are a mystery to me—what are they trying to tell me? Are they friend or foe? I don't mind walking next to them on leash as long as I don't have to get too close.
Although I'm happy at Mackenzie's, I'd love to find a home of my own. I'd just need to be shown around the house a few times so that I could use my sixth-sense to get my bearings. And of course I'd always be on-call for anyone in need of an extra hug. Please consider being my sponsor.