Denver
Status: Not Adoptable
Date of Birth: August 23, 2009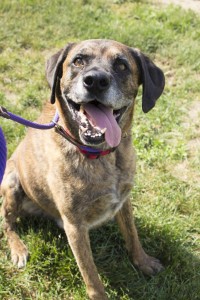 Denver is a 7 year old male mix breed, he was diagnosed with lymphoma in April, 2016. Denver has a low grade, indolent T cell lymphoma (very slow growing type of lymphoma).
Denver's lymphoma was diagnosed prior to a scheduled dental cleaning for a broken tooth.
His pre-anesthetic monitoring bloodwork was abnormal which spurred additional testing and ultimately revealed his slow, indolent lymphoma. Due to the slow developing nature of Denver's lymphoma, his lymphoma is being maintained with oral chemotherapy. Thus far, his oral chemotherapy is keeping his lymphoma stable. Denver will continue on oral chemotherapy, monthly recheck examinations, and monthly bloodwork monitoring for as long as his lymphoma is stable/not advancing.
Currently, Denver has been happy, active, and feeling well throughout this entire process!
Please sponsor Denver today!
| | |
| --- | --- |
| Use this button if you prefer to make a monthly payment of $25 | Use this button if you prefer to make a one-time payment of $300 |