Dusty
Status: Adoptable | Adoption Survey
Date of Birth: November 20, 2008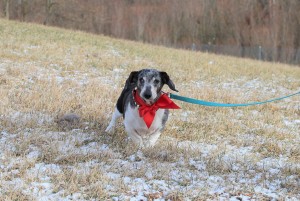 A closer look Dusty!
Meg is part of our amazing staff at Mackenzie's, and this is her foster story with Dusty.
"This is Dusty, a sweet little 11 year old senior man who will warm your heart. Dusty came to us after his owner had passed. His story was a mystery. Dusty was a mess at first, he had medical and dental issues that needed attention, and emotional ones. We could tell he missed home and his owner as he would cry and cry. But after some forced kisses, lots of snuggles and time, he began to open up one sweet moment at a time. When I first brought Duster's home he was terrified. My dogs scared him, my house scared him, even I scared him! But through this last month this little man took some huge steps. He started to perk up when he heard my voice, or he would come greet me when I got home. After a week I got my first kiss! I nearly screamed with excitement but didn't want to ruin our moment. After two weeks he showed me his flubby little tummy and let me scratch it. We have a little bell on his collar and after three weeks I could hear him jingling after me wherever I went. Over time I could see that my mushy kisses were no longer forced but welcomed and that he would choose to snuggle up to me when he had a whole bed or couch. This past week Dusty has made big improvements. He no longer cries anymore and seems happy. He is now not only hanging out with my fur babies but is sleeping with them! ❤ My first impression of Dusty was that he was an independent, quiet, shy, little dachshund. But now I can say he is a strong, sweet, gentle, amazing little man that anyone would be blessed to have. We are able to take on these sad stories and turn them into amazing tales because of supporters like you.
If you are interested in adopting Dusty please click here 👉 https://bit.ly/2T8tOxH
Dusty is a hospice senior patient with many complex medical problems. We are unsure how long he will live with all of his medical problems (could be years…we just don't know…). He will require a lot of medical monitoring and medication adjustments for the remainder of his life and none of the issues we have been able to diagnose thus far are curable. We are balancing his medical issues as best we can while we help him feel as good as possible.
Please help us help Dusty by sponsoring him today!
Please sponsor Dusty today!
| | |
| --- | --- |
| Use this button if you prefer to make a monthly payment of $25 | Use this button if you prefer to make a one-time payment of $300 |