Freddie
ADOPTED!
Status: ADOPTED!
Date of Birth: February 21, 2011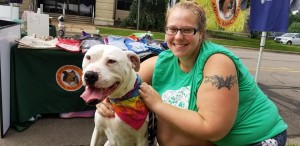 My name is Freddie! I've come a long way since first coming to Mackenzie's – I had a lot to learn! I'm deaf, so the staff and volunteers needed to teach me hand signals so we could communicate. I picked up on the basics pretty quickly, and they started to teach me some more advanced commands, tricks and even some agility!
Being deaf doesn't slow me down at all though. In addition to working hard on learning hand signals and commands, staff and volunteers at MAS have worked with me on walk training. I'm happy to share that I've mastered that, and graduated to running in a few 5K races! I enjoy the running, but I really like meeting new people while I'm out and about. Car rides are a fun treat for me too – but as long as I'm with one of my human pals, I'm a happy guy.
Since I'm deaf, I'd do best in a quiet home or one without too many surprises. Other than that, I'm up for anything! Running, hiking, road trips… you name it! And after our day of adventure, I'd be happy to cuddle up in a cozy bed, getting recharged to do it all again the next day! Come see me soon!
Meet-Your-Match Canine-ality color is: Orange Busy Bee!!
For safety's sake, we are looking for homes with physical fenced in areas.
Please fill out our online adoption survey at www.mackenzies.info