Ginger
Status: Adoptable | Adoption Survey
Date of Birth: June 1, 2009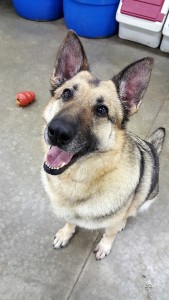 NOTE: Adoption on hold due to Medical
Sweet Ginger is a loving and very affection German Shepherd that has been diagnosed with Degenerative Myelopathy. Unfortunately, Ginger's condition is progressive and will result in complete paralysis of her hindlimbs within the next year.
Our current plan for Ginger: Mackenzie's supporting Ginger and doing everything we can to slow the progression of her Degenerative Myelopathy. She was just enrolled in a 6-week physical therapy course, we are making sure she is getting up and going on 3 very small walks per day with her 'Help'Em Up' Harness which helps us continue to allow her enrichment and exercise. We are trying to get her use to a k-9 cart (A Dog Wheel Chair), but she isn't that fond of it yet, we are moving very slow and hope she will adjust.
She is a very special girl and we hope you consider sponsoring her today! Your sponsorship will go toward her therapy and special equipment to help us continue caring for her and her specific needs.
Please sponsor Ginger today!
| | |
| --- | --- |
| Use this button if you prefer to make a monthly payment of $25 | Use this button if you prefer to make a one-time payment of $300 |