Glitter
Status: Not Adoptable
Date of Birth: December 14, 2014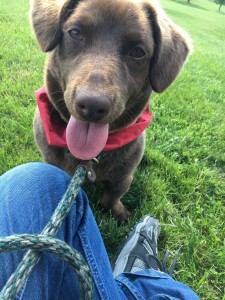 Hi, I'm Glitter. I didn't have the easiest start to life. My family moved away and didn't take me with them. I was pretty sad and angry about that. Luckily, a good Samaritan found me and brought me to a shelter. That's how I ended up at Mackenzie's. I've been working hard on my trust issues ever since, so I can be very cautious with people I don't know.
Once I get to know you, I'm a goofy girl that loves to play. One of my most favorite things to do at Mackenzie's is to go over to our canine gym and play on the agility equipment. I also enjoy a good car ride. And did I mention I'm really smart? I've been working hard on practicing the "wait" command when it comes to things I want such as a tasty treat. Best of all, I'm an excellent lap dog for the people I trust.
Please sponsor Glitter today!
| | |
| --- | --- |
| Use this button if you prefer to make a monthly payment of $25 | Use this button if you prefer to make a one-time payment of $300 |