Goliath
Status: Not Adoptable
Date of Birth: October 7, 2009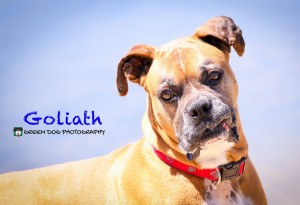 Hi my name is Goliath!  My doctor tells me I am a "medical mess" but that she loves me anyways!  When I first arrived at Mackenzie's Animal Sanctuary I had a liver infection and lots of intestinal parasites/worms.  My gastrointestinal tract has always been sensitive, so I am chronically on a special diet and medications which keeps my bowel movements regular.  If all of that wasn't enough, I was diagnosed with an aggressive blood vessel cancer in December 2016.  My Mackenzie's family loves me dearly, so they started cancer treatments at Michigan State University to slow down the progression of my cancer.
I was a trooper throughout the treatments and am feeling better than ever right now!  My appetite is so good that my doctor is constantly telling my caretakers to decrease my food.  I may have gotten a bit "heavy", but I still think I am handsome! Sometimes I hear my doctor telling other people that my aggressive cancer will come back soon and that it will be even harder to treat a second time around. That being said, I ignore her and focus on how great I feel right now!  I am one happy guy who would love to be sponsored during my time at Mackenzie's.
"Hemangiosarcoma is a malignant cancer that originates in blood vessels of the body. We surgically removed most of his cancer, but hemangiosarcoma spreads throughout the body very aggressively. "
Please sponsor Goliath today!
| | |
| --- | --- |
| Use this button if you prefer to make a monthly payment of $25 | Use this button if you prefer to make a one-time payment of $300 |