Guapa
Status: Adoptable | Adoption Survey
Date of Birth: July 21, 2011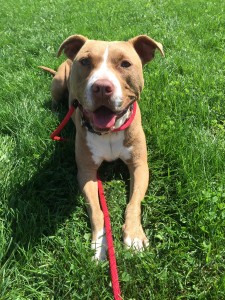 My name is Guapa! Guapa is the Spanish word for "beautiful." When I arrived at MAS, I wasn't in the best shape medically. I had skin infections and allergies, and because of this, I didn't look my best! The kind staff at Mackenzie's saw my potential and picked out that name for me. Before coming to MAS, I had been found as a stray – so I missed out on a lot of medical care and wasn't able to get all the training and socialization that a young pup needs to thrive.
For a long time, I thought the best way to get attention or show my human friends that I was excited to see them was to jump up for attention (and sometimes I'd get a bit mouthy). All this attention from the staff and volunteers at MAS was so new to me, and sometimes I'd forget to be polite.
After that initial burst of excitement, I really am a sweetheart. Now that I've learned how terrific it is to be good and well-mannered and how great it is to please my friends, I work hard every day to put all my skills into practice. Thanks to a lot of love and patience from the staff and volunteers here, I'm ready to find my forever home.
Sometimes, new people, new things and a lot of excitement can make me kind of nervous… So, I would do well in a quiet home with someone who is content to live a low-key lifestyle. Once I settle in, I love belly-rubs and attention, and love taking the occasional walk or hopping in the car for a ride – depending on the day, I sneak in a nap or just look out the window. I don't need a lot, I'm a pretty simple gal – so if you're looking for a friend that specializes in cuddles and love, ask about me or fill out an application!
Meet your Match Canine-ality: Green Go-Getter
For safety's sake, we are looking for homes with physical fenced in areas.
Please fill out our online adoption application and survey at www.mackenzies.info
Please sponsor Guapa today!
| | |
| --- | --- |
| Use this button if you prefer to make a monthly payment of $25 | Use this button if you prefer to make a one-time payment of $300 |