Hanson
ADOPTED!
Status: ADOPTED!
Date of Birth: October 26, 2009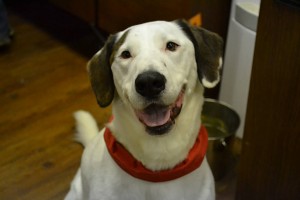 I'm such a handsome fellow that it always surprises people to learn that I used to be a stray. In order to survive, I spent my days dumpster diving. Because of this, when I first came to Mackenzie's Animal Sanctuary, I tried to guard garbage cans––after all, trash was the only food I knew!
However, I quickly learned that at Mackenzie's, you get to eat every day! And I'm given food in these shiny metal bowls, like I'm royalty or something. And on top of that, there is treats people will give you for being good, and crunchy ice-cube treats with hotdogs frozen inside, and kong toys filled with cheese and peanut butter, and chewy rawhides, and…I should stop now, shouldn't I?
And if that wasn't enough, to keep me on the right track, the staff are teaching me manners by hand-feeding me my meals. That way I don't guard my food like I did with the trash. How cool is that?
Aside from food, I love hanging out in real-life-rooms and playing with toys. And if I need to go potty, I scratch on the door. I'll bet that surprises you, since I was a stray and all. With help from staff and volunteers, I'm learning a lot during my stay here.
Some day I'd love to have a family of my own. I think I'd prefer older kids, and a big yard to run around in, and meals every day, and treats, and a big comfy bed, and long walks where I can sniff around, and…I'm doing it again, aren't I? I'm just so thankful that I've been given a second chance, I can't help myself! Please consider being my sponsor.