Howie
ADOPTED!
Status: ADOPTED!
Date of Birth: August 2, 2007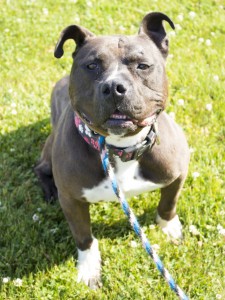 Everyone calls me Hungry Howie because of my love of food. And who could blame me? I was abandoned in a garage where I was trapped with no way to get out for three months. Thank goodness some kindhearted neighborhood kids slipped in food scraps for me to eat. I was in really rough shape when I was finally rescued and brought to Mackenzie's Animal Sanctuary—you could see every rib, and even the bones in my tail.
It was a long road to recovery, but I'm better than ever now! I have doggie friends, and I love playing with staff and volunteers—my favorite toys are these big blue and red rubber balls. I even have my very own bowling ball to roll around—how many dogs can say that?
And my absolute favorite thing? You guessed it, lots and lots of treats! Please consider being my sponsor.