Jag
Status: Not Adoptable
Date of Birth: May 25, 2002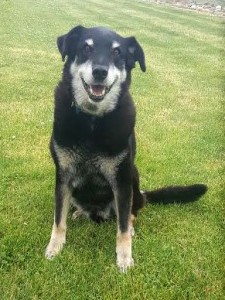 I came to Mackenzie's in 2013 from another rescue that was closing. I would not allow anyone in my run too clean, feed or change my water. I was very grumpy and did not like being bothered. Until, a staff member decided to see me daily, gaining my trust gradually through hand feeding and patience. (He trusts this staff member so much that they now help with all vet visits and are continuing to work with him on his food guarding issues.) After a few weeks of this I was finally ready to let a Veterinarian check me out without putting up too much of a fight. It was discovered that I have bone spurs on his vertebrae and have bad arthritis in my hips and back legs. I was given proper medications and am feeling much better now and I'm not as grumpy either.
I just turned 14 years old May 2016, I love to take walks in which I actually tries to jog for a little bit, I enjoy smelling all the fun smells the country life has to offers. I was also moved to the Octagon (another building at Mackenzie's, fewer dogs live there so it is much quieter for dogs that have higher anxiety) I am much happier with my own large run and yard. I currently have been doing so well behaviorally that I have been meeting new staff members and actually liking them. For being 14 years old that hasn't stopped me from the love I have of playing with squeaky tennis balls and searching for treats hidden in his bed. Please consider being my sponsor.
Please sponsor Jag today!
| | |
| --- | --- |
| Use this button if you prefer to make a monthly payment of $25 | Use this button if you prefer to make a one-time payment of $300 |