Jasper
Status: Adoptable | Adoption Survey
Date of Birth: May 1, 2010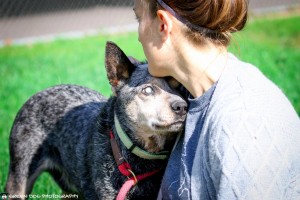 Hi, my name is Jasper!  I am a special needs dog who is very lucky to be so well cared for at Mackenzie's Animal Sanctuary.  I arrived at Mackenzie's a few years ago and have always been an independent guy.  My independence may surprise you because I am blind!  I wear a halo to help me walk around in unfamiliar areas so that I do not bump into things.  Since being blind, I have also have lost most of my hearing.  That being said, these obstacles don't slow me down when my favorite food puzzle toy is near!
A few months ago, my doctor noticed my liver enzymes were elevated on routine blood work.  After many tests, including a liver biopsy, I was finally diagnosed with a copper storage disease of my liver.  Basically, my liver doesn't know how to process normal levels of copper found in dog food, so over time cooper accumulates in my liver cells which leads to liver inflammation.  Eventually, if not treated, I will end up with cirrhosis of the liver and liver failure.  Thank goodness the medical team at Mackenzie's found my liver problem before it was too late!  I am currently receiving numerous medications for my liver and am on a special diet for the rest of my life.  I like any and all food offered to me, so I don't mind the special diet at all!  While we are on the topic of food, is it time for another food puzzle?
Please sponsor Jasper today!
| | |
| --- | --- |
| Use this button if you prefer to make a monthly payment of $25 | Use this button if you prefer to make a one-time payment of $300 |