Kane
Status: Not Adoptable
Date of Birth: July 16, 2012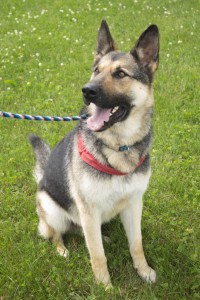 When I was a puppy, no one taught me what I should and shouldn't do. It was really hard to be a good boy when I couldn't figure out what was expected of me. Because of this, I tried to figure things out on my own—it was all very confusing and frustrating. And since I'm highly intelligent (that's what everyone tells me), I started getting into all sorts of trouble.
Luckily at Mackenzie's Animal Sanctuary I'm finally learning all the valuable skills I wasn't taught earlier…like how to take treats nicely, not to guard my food, basic obedience, walking nicely on a leash, not biting and jumping up on people when I get excited…
But it's not all work and no play. I love playing fetch, and if I can do that in the water, it's even better! And honestly, I like learning how to be a gentleman—it gives me more opportunities to meet friendly adults, and to someday find my Forever Home. I'd like a home where I can be the only dog—that way I can have my human parent's full attention when I show-off all the great things I've learned! Please consider being my sponsor.
Please sponsor Kane today!
| | |
| --- | --- |
| Use this button if you prefer to make a monthly payment of $25 | Use this button if you prefer to make a one-time payment of $300 |