Keeper
ADOPTED!
Status: ADOPTED!
Date of Birth: August 3, 2014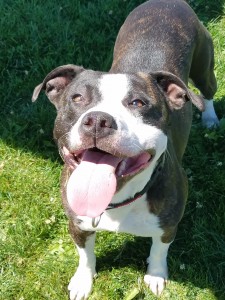 The staff at MAS has a real knack for picking out fitting names for us when we come in! Spend a few minutes with me and you'll quickly see what a "keeper" I am!
I love spending time around people! Before I came to Mackenzie's, I had been on the run for a little while, so all this attention from my human friends makes me super excited!
I'm definitely an active sort of gal – swimming, playing frisbee and fetch, running, biking… Any sort of adventure you're thinking of going on, I absolutely want to join in the fun! I'm a real smartie-pants with a bit of energy to burn, but after some cardio, I'm ready to check in for a couple episodes of whatever you're watching on Netflix – I'm not picky!
Meet Your Match Canine-ality color is: Green Go-Getter!!!
For safety's sake, we are looking for homes with physical fenced in areas.
Please fill out our online adoption survey at www.mackenzies.info