Moose
ADOPTED!
Status: ADOPTED!
Date of Birth: October 16, 2012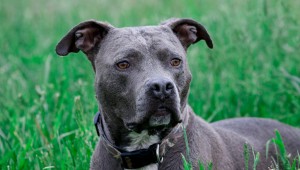 Hi, my name is "Moose".
In November of 2014 I entered a local shelter in west Michigan. A volunteer there took me under her wing and we fell in love, she is GREAT! I did not know any commands when I arrived. She taught me how sit, shake, high five, lay down, how to take treats nicely, and how to walk properly on a leash. My life was at risk several times and she spent days emailing no kill rescues all over Michigan and even outside of Michigan, trying to find a place that would help me save him. She finally got a yes. Her best friend and co-worker at the time loaded me and 5 other dogs up in the van and drove them 12+ hours to Ironwood, Michigan in the middle of winter. I was finally safe! I was enrolled in a prison training program up north where I learned some more basic obedience, and taught the inmates responsibility. However, my luck eventually ran out in this program so my favorite volunteer drove back up and brought me back home. Over the next year (2015) I was adopted in June and returned at the end of the month. That was hard. My volunteer made one last post to try and get me adopted. And it worked! I was adopted in October of 2015. It was great! The months passed and my new parents sent happy pictures and great updates to the shelter. Then out of the blue in August of 2016 I was returned. I had done nothing wrong, they just didn't want a dog anymore. Everyone was completely devastated. I saw my favorite volunteer and we just sad together and cried. Again, so many hearts were broken. This volunteer would have adopted me herself, but couldn't because she already had two dogs, a cat, and a foster kitten and I cannot be around cats, and would prefer a home without dogs. She again tried emailing rescues, trying to find me somewhere to go where I would be safe, but was coming up with nothing. Then my world changed, I found my way to Mackenzie's and will be safe and taken care of until they can find me the perfect forever home and family. In the meantime, please consider sponsoring me today!…….Oh and this favorite volunteer I speak of now works at Mackenzie's so I see her all the time and that makes both of us very HAPPY.
Meet-Your-Match Canine-ality color is: Orange-Busy-Bee!!!
For safety's sake, we are looking for homes with physical fenced in areas.