Peaches
Status: Adoptable | Adoption Survey
Date of Birth: February 10, 2010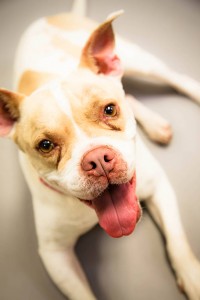 Although there are a lot of things I love about living at Mackenzie's Animal Sanctuary, what I love most is spending time with volunteers, especially kids. A good pet and tummy rub can have me snoring contentedly. Sometimes my tongue sticks out a little too, which people think is adorable.
When I'm ready to play, I zoom and scoot around the room, full speed ahead! This makes the staff and volunteers laugh in delight. And that's what everyone says about me, I'm delightful! They also say I'm super cute with my unique under-bite. If that wasn't enough, when I'm ready to relax, I stretch my legs out like a frog—that always gets people giggling.
As much fun as I'm having here, I'd really like a Forever Home of my own. I'd prefer no dogs or cats, but if there's kids, that would be wonderful! I can't wait to show a family all the things that make me so sweet and unique. Please consider being my sponsor.
Please sponsor Peaches today!
| | |
| --- | --- |
| Use this button if you prefer to make a monthly payment of $25 | Use this button if you prefer to make a one-time payment of $300 |