Porsha
Status: Adoptable | Adoption Survey
Date of Birth: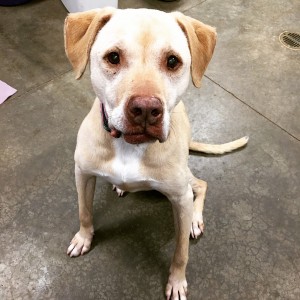 Porsha is a 13 year old Labrador Retriever who became paralyzed overnight in February 2016.
Due to her sudden inability to walk, our veterinary technician rushed Porsha to Dogwood Veterinary Referral Center for an emergency neurologic examination. Porsha was diagnosed with a degenerative intervertebral disc in her neck that had slipped and was causing her spinal cord to be compressed. Therefore, Porsha was rushing into emergency surgery to remove the disc applying pressure on her spinal cord. Amazingly, within 24 hours of surgery Porsha was able to move her limbs and within 48 hours she was able to stand with assistance!
Porsha continued her recovery at Dogwood Veterinary Referral Center for 1.5 weeks where she received intensive physical therapy and rehabilitation. Due to the wonderful care she received, we are happy to report that Porsha is again enjoying long walks with the staff and volunteers at Mackenzie's!
Please sponsor Porsha today!
| | |
| --- | --- |
| Use this button if you prefer to make a monthly payment of $25 | Use this button if you prefer to make a one-time payment of $300 |