Quincey
Status: Adoptable | Adoption Survey
Date of Birth: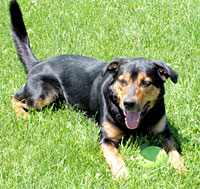 Poor Quincey was found tied up to one of the barns at Mackenzie's one cold winter morning. And he was not happy about that. It took the staff and volunteers several hours to calm him down enough to get close enough to bring him inside.
Quincey now allows some of the staff to spend time with him. He loves to show off how well he can sit, shake, sit pretty, roll over and lay down. He is very smart! It takes a while for Quincey to warm up to you. Only our experience staff and some volunteers are able to spend time with him. It has been very hard to find a family who understands his personality and needs. But we will never stops working with him or loving him!
Please sponsor Quincey today!
| | |
| --- | --- |
| Use this button if you prefer to make a monthly payment of $25 | Use this button if you prefer to make a one-time payment of $300 |