Rudy
ADOPTED!
Status: ADOPTED!
Date of Birth: September 2, 2009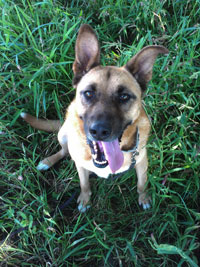 I absolutely love toys and food, some might say a little too much. They say the first step in recovery is admitting you have a problem. So, I'll admit it, I don't like to share!
Luckily, the staff at Mackenzie's Animal Sanctuary understand how hard it can be to break a bad habit. They're helping me work through my food and toy guarding issues, and little by little, I'm improving! They also take me on walks, teach me basic obedience, and give me yummy treats. I've heard that a lot of other places would've given up on a guy like me. I feel so blessed to have ended up at Mackenzie's where they believe in second chances. Please consider being my sponsor.