Sarge
ADOPTED!
Status: ADOPTED!
Date of Birth: July 6, 2011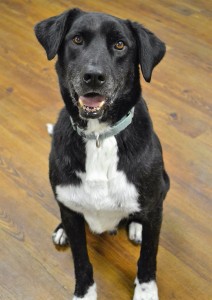 Sarge is a beautiful Border Collie Mix. He can be fearful, as he and two other dogs were living behind a farmhouse for a while all on their own. Two of his friends have been adopted, and Sarge is now doing much better, as he is getting more socialization. He needs a home that can devote lots of time to him. Introduce him slowly to new things. Teach his commands, and take things very slow, to build his confidence. He wants to trust really badly, and just the right owner will bring that out in him. His potential is sky high. He needs a large fenced in area to get out his energy. Although lots of walks and playing would help him as well. Please come and visit him soon.
Meet-Your-Match Canine-ality color is: Purple-Teachers Pet!!!
For safety's sake, we are looking for homes with physical fenced in areas.