Serenitee
Status: Not Adoptable
Date of Birth: July 25, 2011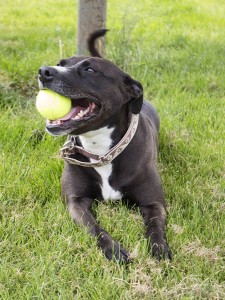 Before I came to Mackenzie's Animal Sanctuary, I was abandoned and left tied to a rope with a prong collar digging into my neck. Because of this experience, I don't like people to touch or pet me too much. Strangers make me feel nervous too. Luckily the staff and volunteers understand, and help me to feel comfortable by going at my pace.
Since coming here, I've really blossomed and I enjoy learning lots of new things. There's always someone to teach me basic training and fun tricks. It's wonderful! I'm excelling at agility, learning how to jump rope, how to nudge a ball with my nose, and so much more! When I'm ready to take a break from learning, I like to un-wind with a toy or two, or take a relaxing dip in the pond.
My life is night and day from where it was. Instead of living out my days being unwanted and mistreated, I am now surrounded by people who show me that I have worth and that I matter. Please consider being my sponsor.
Please sponsor Serenitee today!
| | |
| --- | --- |
| Use this button if you prefer to make a monthly payment of $25 | Use this button if you prefer to make a one-time payment of $300 |