Spunky
Status: Not Adoptable
Date of Birth: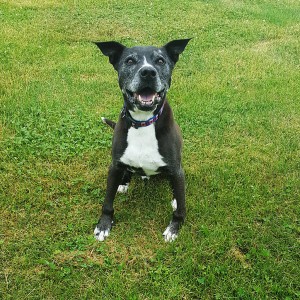 Spunky is also a Katrina survivor. He was brought to Michigan to be rehabilitated. The first night at Mackenzie's he was tested for heartworm and tested positive. He was then put on treatments right away. Heartworm treatments were a nightmare for him. He is such an active dog, being confined to very short walks is not what he looks forward to. He wanted to run, play, dig holes and bark at other dogs, you can say he was very hyperactive.
After eight weeks of being on restrictions he was able to go for longer walks but started misbehaving, he was jumping up and biting at the arms of the people trying to walk him. It was now time to be retested for heartworm to make sure the last treatment destroyed all the worms, it did NOT. He then had to go through another set of treatments which made him very upset and agitated.
After three more months he now had a clean bill of health and we were working very hard at his behavior modification program. Unfortunately, he would still become agitated or excited very quickly and the jumping up and biting continued. We decided the safest place for him was to stay at the Sanctuary where he would be safe with appropriate staff and volunteers he knew.
He was able to go for long runs and jogs which made him a very happy boy. He has volunteers and staff that see him daily. Spunky is now one of our aged sanctuary sweethearts, he occasionally goes home with a staff member for overnights, which he loves. He goes for walks daily and still has volunteer visitors that spend one-on-one time with him.
Recently he had a bad bacterial infection, but with the right care and medical attention he is improving every day. He has a few other aging problems but is monitored daily in case medical intervention is needed. He is still one happy boy and is very special to all of us here at the Sanctuary.
Please sponsor Spunky today!
| | |
| --- | --- |
| Use this button if you prefer to make a monthly payment of $25 | Use this button if you prefer to make a one-time payment of $300 |