Stella
Status: Adoptable | Adoption Survey
Date of Birth: March 3, 2002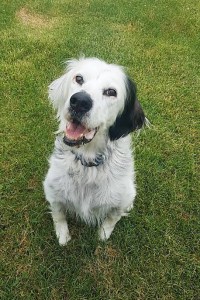 I'm what you call a fear biter. Sudden movements or loud noises startle me so bad that my reaction is to bite. I love to be around people as long as we are in calm environment, I also get along fine with other dogs.
Mackenzie's is my home and a wonderful one at that, without them I don't even want to imagine where I'd be.
Update: I am meeting new volunteers and doing really well. I'm kind of a stinker about walking, I don't like to go very far because I have learned when I get back to my run I get treats. I love treats! I also love one-on-one time. I'm not big into toys, I would rather you just feed me. I'm still pretty active for my age and I'm medically okay as well. Please consider being my sponsor.
Please sponsor Stella today!
| | |
| --- | --- |
| Use this button if you prefer to make a monthly payment of $25 | Use this button if you prefer to make a one-time payment of $300 |