Tatiana
Status: Adoptable | Adoption Survey
Date of Birth: January 9, 2010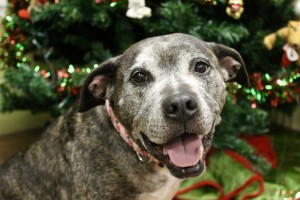 You may have heard of me—I made national headlines when I was left for dead in the woods. My legs and mouth were bound with duct tape and I was repeatedly beaten with a baseball bat.
I am so thankful my story doesn't end there. I was found just in time and taken to a local shelter where they nursed me back to health. After that, I was brought to Mackenzie's Animal Sanctuary. Now I have a new take on life! Here, I receive more loving care than I ever imagined. I love going for long walks around the property and showing off my basic obedience skills and fun tricks.
Because of my traumatic experience, I'm still working through trust issues with strangers. However, once I get to know someone, I so look forward to spending time with them! The same can't be said for dogs—I prefer it to just be me and my human friends. Some say it's because I want all the love and attention for myself. There may be some truth to that, after all, I'm making up for lost time. Please consider being my sponsor.
Please sponsor Tatiana today!
| | |
| --- | --- |
| Use this button if you prefer to make a monthly payment of $25 | Use this button if you prefer to make a one-time payment of $300 |