Titan
Status: Not Adoptable
Date of Birth: December 21, 2010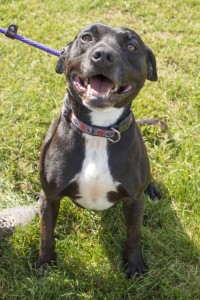 I was found running along back roads with a friend, both of us terrified and starving. By the time we were rescued by animal control, I was so malnourished I almost died. My friend wasn't so fortunate, and despite everyone's best efforts, he passed away. I was taken to Mackenzie's Animal Sanctuary where they fought day and night to bring me back to health.
Since I was in a state of starvation for so long, my body no longer has the ability to absorb the nutrients I need to stay healthy. Because of this, I have a special enzyme sprinkled on all my food that does what my body no longer can. I am so thankful Mackenzie's can provide the care I need to stay alive! You should see me now, not a single bone stick out from beneath my shiny, black coat. I've turned into quite a handsome fellow, if I don't mind saying so.
Because of my past, I'm uncomfortable around strangers, especially men. The staff have been wonderful by taking it slow with me. I love spending time with them. Mackenzie's continually shows me that I don't have to be scared anymore by giving me a safe place to call home. Please consider being my sponsor.
Please sponsor Titan today!
| | |
| --- | --- |
| Use this button if you prefer to make a monthly payment of $25 | Use this button if you prefer to make a one-time payment of $300 |