Tres
Status: Adoptable | Adoption Survey
Date of Birth: January 20, 2009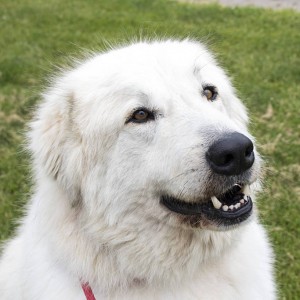 Tres is a 7 year old male Great Pyrenees, he was diagnosed with chondrosarcoma of his right rear limb in July, 2016. Chondrosarcoma is an uncommon bone cancer of dogs.
Tres is an amputee from trauma he experienced as a puppy. His left rear leg was amputated at that time to help him heal from trauma.
The recommended treatment for his cancer is amputation of the limb in which the cancer has developed followed by chemotherapy. Due to Tres' amputee status, we are unable to remove the cancer from his body.
Tres has recently started chemotherapy to slow down his cancer and radiation to help with cancer pain (as bone cancer is often very painful). Tres will continue with these treatments until his bone becomes too weak from the cancer. We are hoping for many months of happy life prior to that time.
Tres continues to be walking well and his pain is well controlled.
Please sponsor Tres today!
| | |
| --- | --- |
| Use this button if you prefer to make a monthly payment of $25 | Use this button if you prefer to make a one-time payment of $300 |