Willow
ADOPTED!
Status: ADOPTED!
Date of Birth: March 7, 2012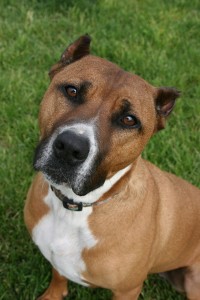 Willow, is truly a very loving and happy dog. She has been at MAS for a while and this is tragic as she is such a sweetie. She loves to run & play and enjoys chasing balls, she very much would like to be a lap dog as well. She has a very kind canine-ality. She needs a home with older kids or just adults, as she is strong, and could run little ones over. She enjoys hanging out in the office, she mostly relaxes on her bed after getting some snuggles and chewing on her rawhide. She loves walks and is great on a lead, she has been working on her commands and is an extremely fast learner. She would make a great companion and a lifelong friend if you would give her the chance.
Meet-Your-Match Canine-ality color is: Orange- Busy Bee!!!
For safety's sake, we are looking for homes with physical fenced in areas.