Another rousing success. Thank you!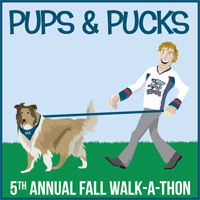 The 5th Annual Pups & Pucks Walk-A-Thon was the most successful one to date! With the support of attendees, staff, friends, family members, and 2 donors willing to match up to $25,000 of event proceeds we were able to raise a record-breaking $67,600!!! This will go to cover the cost of medical equipment needed for our new on-site veterinary clinic.
Thank you to everyone who attended, donated, and supported the event in any way. We could not have done this without you. Thank you for believing in Mackenzie's Animal Sanctuary.