Holiday Open House and Wish List Drive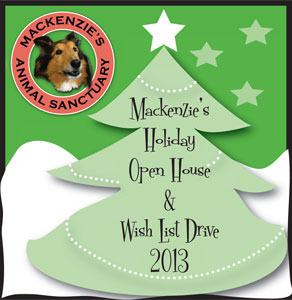 When: Saturday, December 14th
Time: 10:00am to 2:00pm
Have you always wanted to come out and see Mackenzie's? Here is an opportunity to come out with your friends and family!
Come join Sanctuary Pups and staff at Mackenzie's Holiday Open House and Wish List Drive as we celebrate the joyous holiday season. Attend the Holiday Open House and Wish List Drive on Saturday December 14th from 10:00am to 2:00pm and enjoy a festive celebration of love and compassion. During the event you can drop off holiday treats and toys to Sanctuary pups as they wait for their forever homes, get a tour of our facility, and even get the adoption process started.
Mackenzie's will also have kids' arts and craft, refreshments, and an opportunity to meet your sponsored dog.