Shy dog group at Mackenzie's!
Some dogs need a little extra confidence to find their 'Forever Home!'
Happy Friday!  We are excited to share with you a current program we are working on at Mackenzie's.  We are known for our enrichment and the many ways we help each dog to be better once they arrive at Mackenzie's.  So many of our dogs come in 'broken' and we work really hard to heal the pieces.  Confidence and that 'safe' feeling seems to be a common trait with some rescue dogs.  We have started a Shy dog group at the Sanctuary to support these dogs and develop their confidence.  Christina, a Sanctuary Kennel Attendant, leads this amazing group.  "With so many puppy mill dogs and timid dogs here at the Sanctuary, we saw a need and decided to start a group,"  says Christina.
How does it work?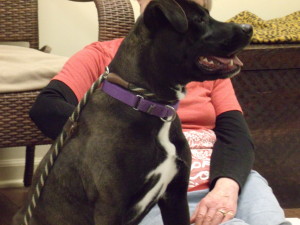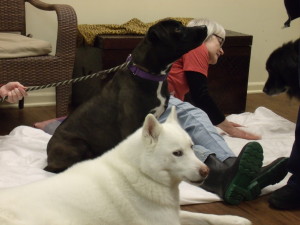 We carefully choose multiple dogs to round out the group because we have found them to be more calming for most of the shy dog participants.  We try to get as many people (usually Volunteers ) into the group to get the dogs used to different types of people and new people as well.  We welcome people to come in and out of the room when they can to further help with this.
Why do we do it?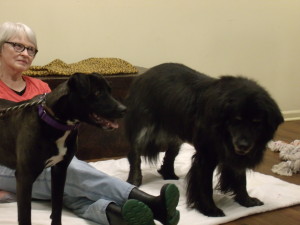 This is all part of our efforts to help them overcome their fear of new things and experiences.  We try to take the dogs to different buildings and into cars for off sites to increase their opportunities for new experiences.  The off sites really  make a huge difference in getting them used to new places, experiences and people.  The dogs are usually nervous the first few times but we see some relaxing after a few more Shy dog group meetings.  Anytime we add a new person, dog or experience there is a bit of anxiety and nervousness but once they get used to it, they are fine.  "The ultimate goal is to get these dogs to not be so scared when experiencing new things and when they have an adoption visit to not be so shy with the prospective adopters," shares Christina.  "Thanks also to all the people involved: Carol Darby, Diana Sherburn, Amber Pontius, Jan Reed-Smith and myself (Christina). We also have other Volunteers and Staff that come in and out as they can.  We have two groups right now.  The other one includes Carley and Dot."
We are so excited about the cool stuff we do at the Sanctuary everyday!  Our Shy dog group is just one of the extra steps we take to ensure our dogs are ready to meet you!  It's also a lot of fun and rewarding to see them bloom!  Great job Christina and all our Volunteers that help support these awesome efforts every day!